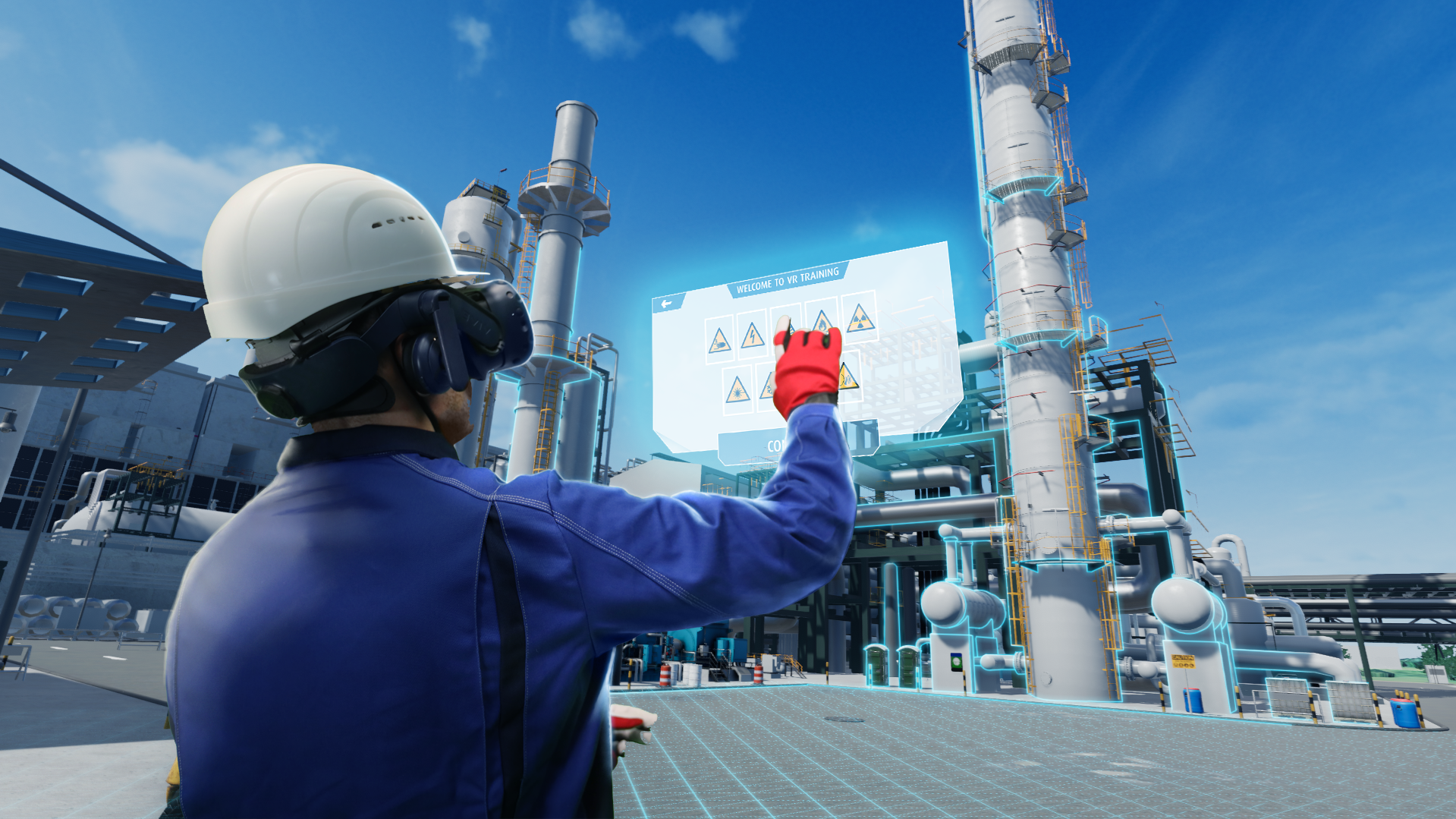 September 28, 2021
Why you should qualify your plant operators to operate columns in VR
To continue to function properly, units in industrial plants must undergo routine maintenance. Today, we are talking about the columns and why it is important to educate your operators on how to use them correctly.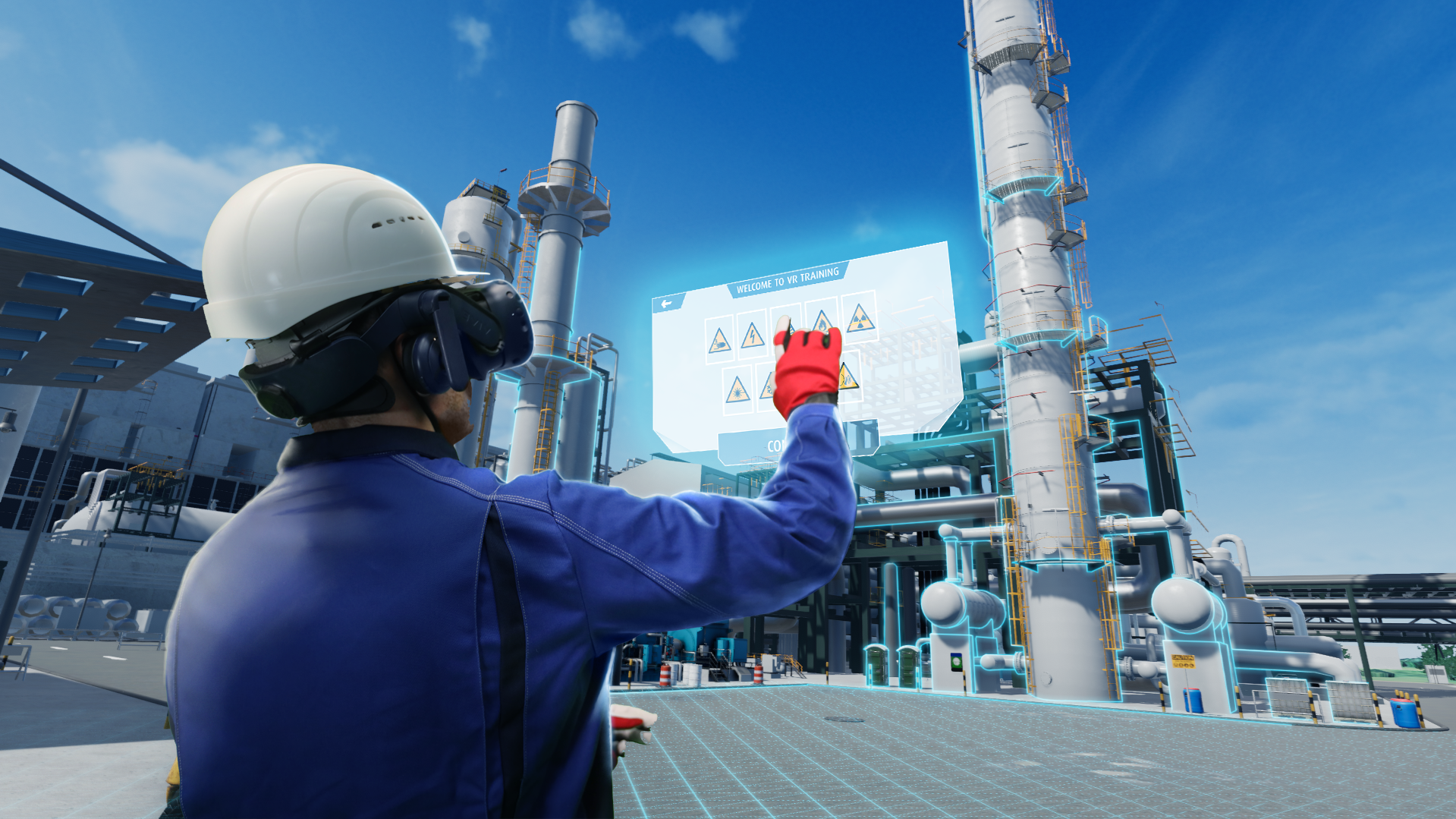 Operator beginning the column qualification training module in LVA.
Columns in Industrial Plants
Columns are one of the assets that don't often receive maintenance. Hence, the operators do not have many chances to practice and execute the necessary procedures until it's time for a turnaround. For example, reflux pumps are maintained every six months, while a complete turnover happens every 5 years. Since these are complex procedures and the assets are rarely shut down, educating operators on how to use the columns efficiently is challenging. Training on a plant while in operation is just not safe. Moreover, shutting down the plant for training is not possible due to the huge loss for every hour the plant is not operating. So far, the industry has placed its trust in getting operators to read manuals, but it has been proven that this approach is not efficient. It is a well-known fact that the human brain remembers only 20% of what we read, so do you think it is okay for someone to operate columns based on only 20% of the required information? Let's talk about some possible outcomes of inadequate training. 
The Downside of Inadequate Training in Industrial Plants
The industry is challenged because of an inability to adequately train its workforce and because plant operators get very few opportunities to practice the necessary procedures, which is exacerbated by employee turnover. Thus, the first time that operators perform the startup and shutdown procedures often results in a variety of adverse incidents, such as:
Delays in the turnaround schedule

Critical damage to equipment

Injuries

Fatalities
While delays happen regularly, it is super important to keep in mind that we are talking about losses of thousands of euros every second a plant is not working. Moreover, critical damage to equipment is pricey. Worse, improper handling can result in injuries or even fatalities. Needless to say, these situations are dangerous and can be avoided only by proper training.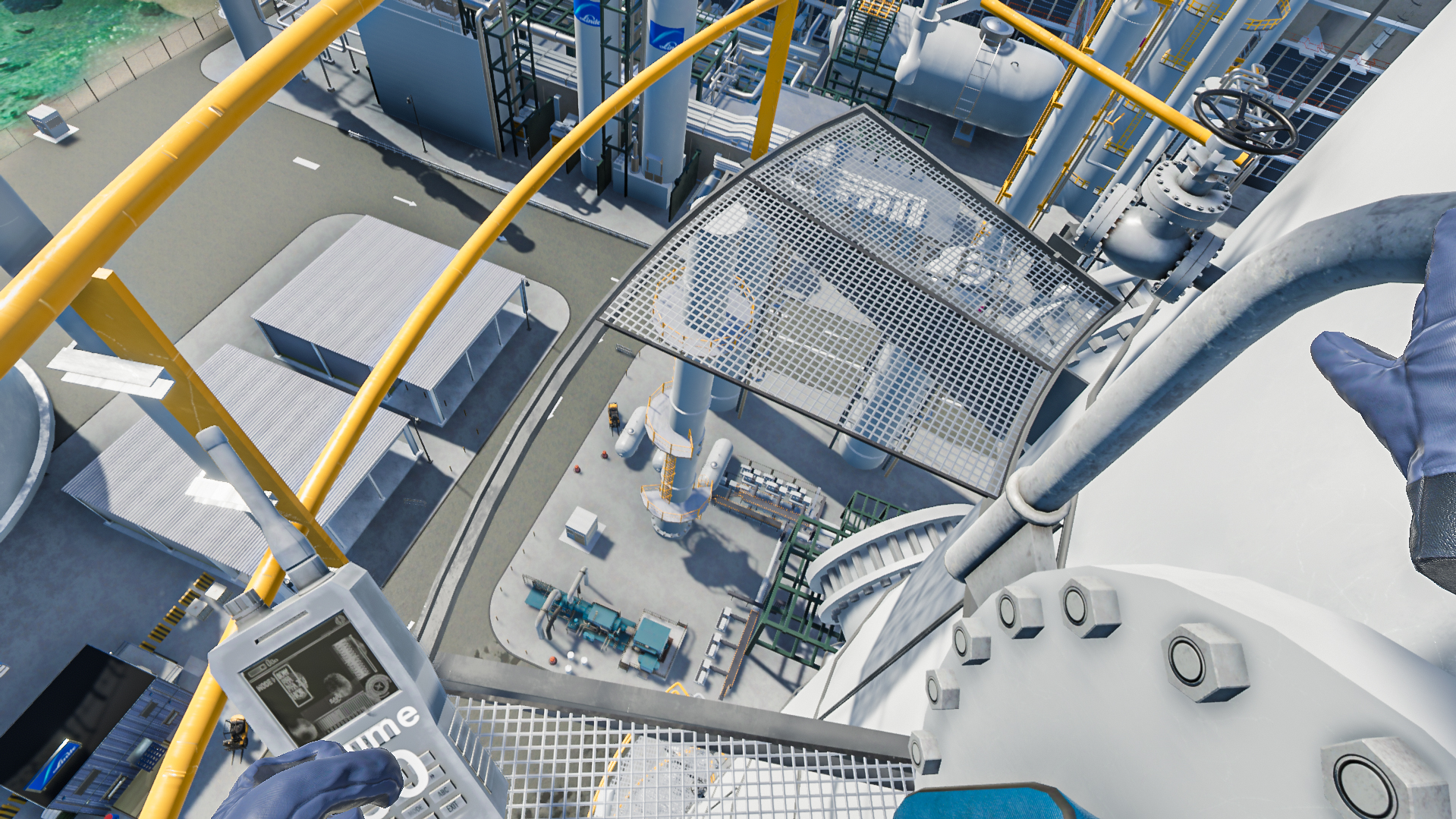 The missing platform panel from the "Working at Height" scenario is one of the unpredictable situations that trainees learn how to overcome in the LVA.
Comprehensive solution for qualified operators
To solve this issue, we have developed a comprehensive virtual reality training module to prepare operators for complex column operations. What's great about our column operation module is that each scenario is staged in a 1:1 replica of a Linde plant, where trainees get to practice with their own hands. The Linde Virtual Academy column operation module teaches operators step by step how to safely start up and shut down columns, including the ins and outs of adjacent equipment, such as reboilers, condensers and reflux pumps.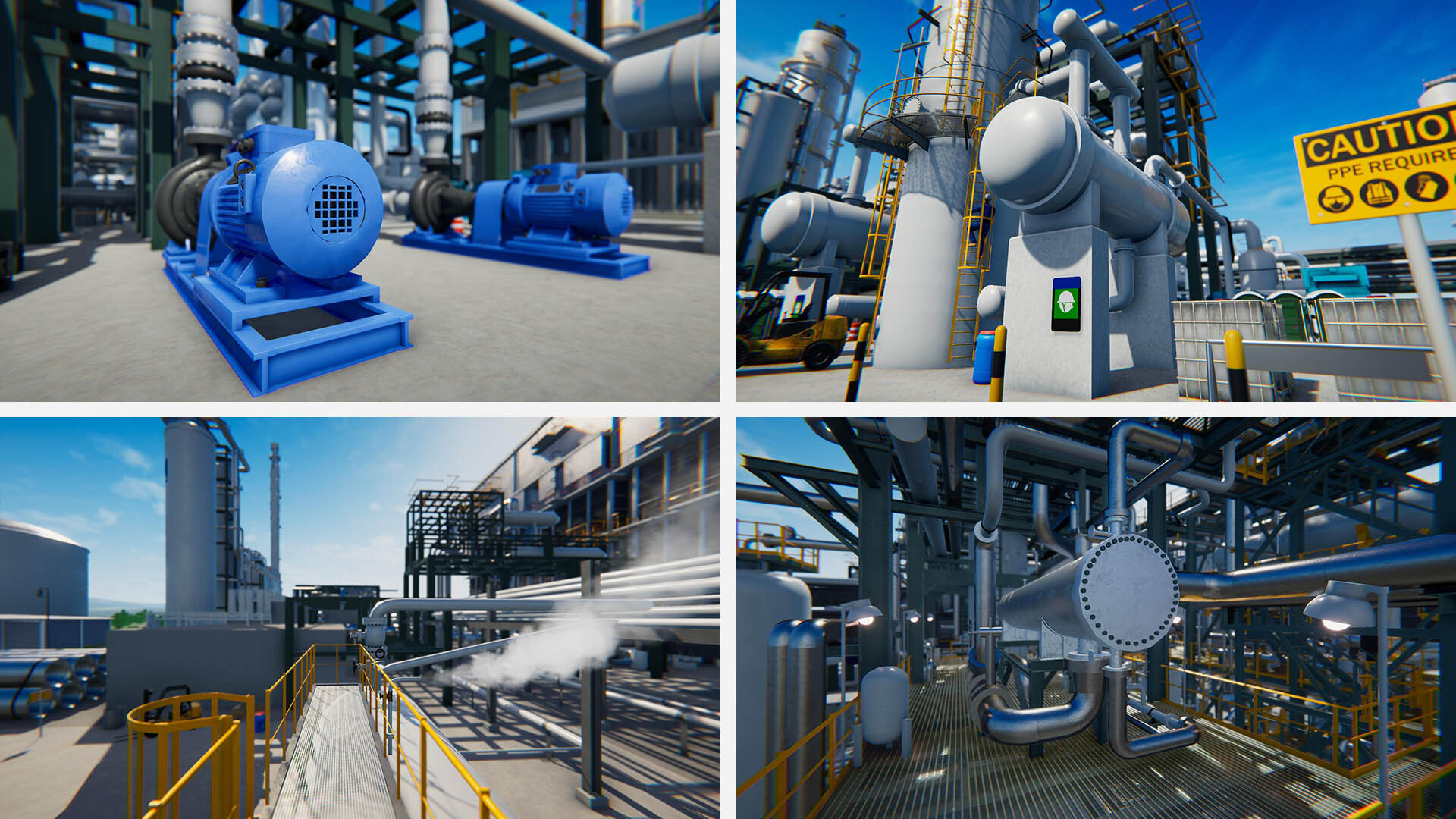 From left to right, top to bottom: The reboiler, reflux pump, drum and condenser inside the Linde Virtual Academy are realistic and identical to those in the original plant.
This approach ensures that operators are appropriately trained and ready to execute a turnover when required. In real life, the column startup procedure is only done once at each turnaround, whereas in LVA, trainees can try countless times. At the end of their training, the employees can confirm their knowledge by taking an unguided test. If they pass, they are deemed qualified for operating a column. Additionally, plant managers can rest assured that all procedures have been practiced to perfection before field execution. Thus, the operators won't make any mistakes and efficiency will increase dramatically. More about the column operation module is available at the link.
LVA has five modules. As well as column operation, which we spoke about in today's blog, there are also: 
1. furnace, pump and compressor operations 
2. safe operations, in which trainees learn about common risks
3. critical situations and 
4. how to react in an emergency situation
This approach surely represents the future of plant operator training, and we are happy to be leading the way. More about the future of plant operator training is available on the blog.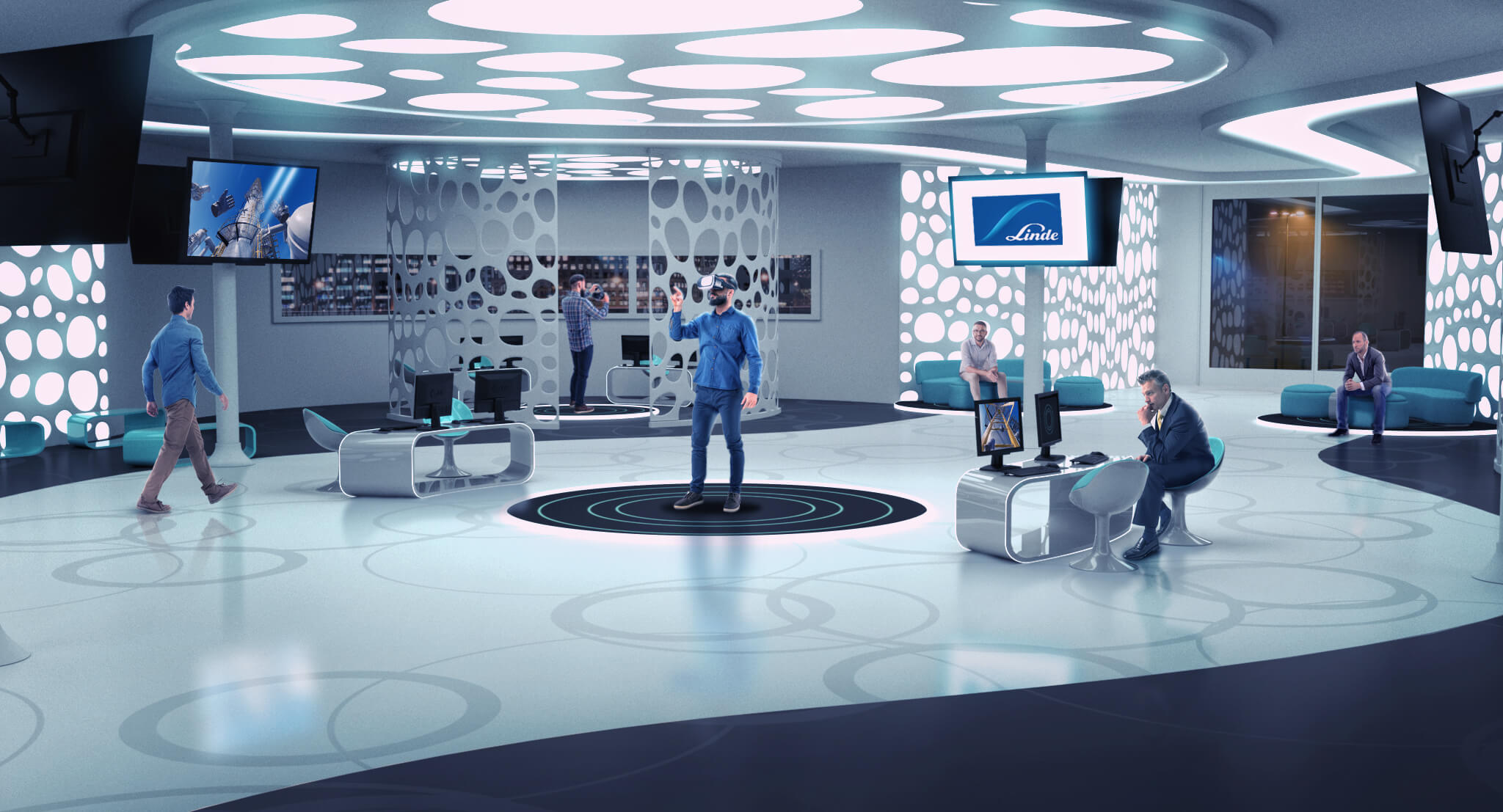 VR learning is a comprehensive training experience that represents the future of learning.
Practice Makes Perfect
Although routine maintenance is crucial for the smooth operation of an industrial plant, training the operators to complete precise and complex tasks has an even more significant impact. Since learning by reading the standard operating procedures is slow and can result in significant incidents, we at Linde decided to offer the world an entirely new approach. Columns are considered to be some of the most complex assets to perform maintenance on, but with Linde Virtual Academy, operators get to learn about all the procedures. They learn faster, with more confidence and greater focus. Moreover, the trainees can repeat scenarios in a 1:1 exact virtual copy of a Linde plant up until they are qualified and ready to perform the same procedures in reality.